📅 Published at 13 September, 2022 & Last updated at 21 August, 2023
Best Backpack for Digital Nomads and Remote Workers in 2023
Authored by Andrea Villegas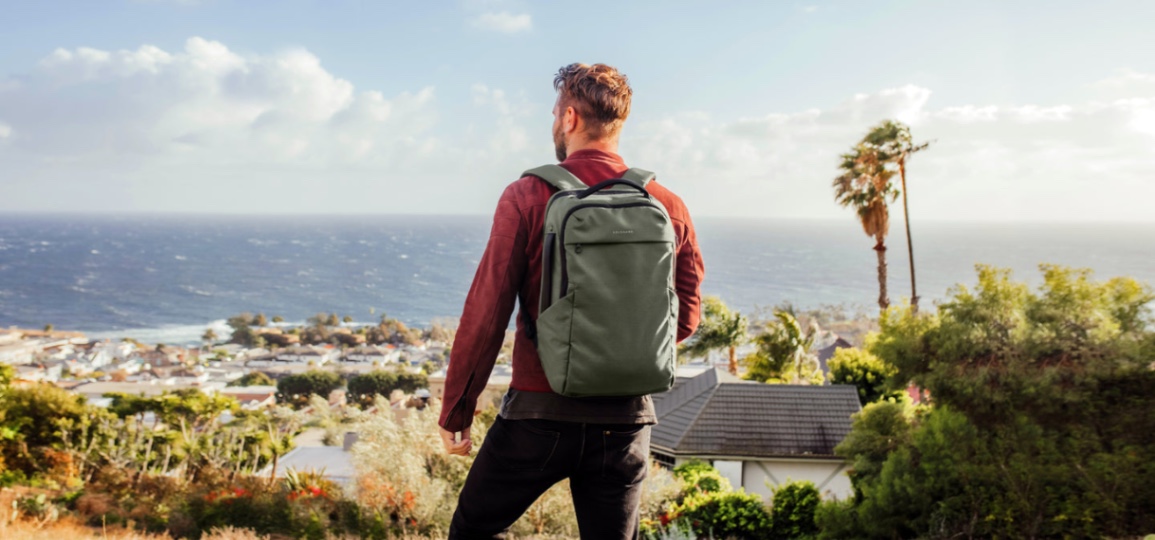 Table of Contents:
A useful, durable, and innovative backpack is definitely on the list of digital nomad essentials. This gear is basic to both carry your work nomad tech such as laptop, screen, and chargers as well as everything you need to successfully complete your trips, to say, passport, wallet, and else. 
The perfect backpack can be used for both working from anywhere in the world and recreation e.g. a morning of hiking. But, how can digital nomads and remote workers choose the best option for them? Is a backpack a good choice at all? 
Here we answer some questions which can help you make up your mind about backpacks: 
What features should the best Digital Nomad backpack have?
Weight distribution: It is important that the backpack is lightweight and comfortable. Consider that you might walk a lot with it, not only in the numerous cities there are yet to discover but even at some airports.
Dedicated space for your laptop: What is a digital nomad without a laptop or digital device to work remotely with? It is highly critical to protect our work tools, and a special space for laptops will do. 
Waterproof: Adding to the previous point, you never know how the weather can behave. Being sure that your electronics will not be messed up by random rain is awesome.
Lock security tech: When you acquire a backpack is like getting a new best friend and companion for your endeavors because it literally contains all your life in it. A good locking system will help avoid pickpocketing incidents or robberies. 
Flexible side for a water bottle: This feature is not only useful for water bottles that will keep you hydrated but also for fitting in other things such as umbrellas and extra tote bags. 
USB Space for Charger: Charging phones and laptops should always be accessible as they keep us connected with the world and our work. Make sure your backpack makes it easier for you to connect your tech to your portable battery to avoid the hassle. Even better, consider acquiring solar power banks not only to avoid needing a plug but to help the planet. Check an option here.
Useful sections to separate your belongings: You cannot go around the world taking everything out of your backpack to find, for instance, a pen. The best nomad backpack needs to have sections clear which makes it easy to locate anything, anywhere. 
Perfect size for airlines: Though trains and buses are also excellent means of transport, airlines are way more strict about luggage size. Make sure you can place your backpack under your seat or, in such a case, in the cabin. 
(DEPENDS!) Clothing sections: If you are on a full-on-backpacking nomad style, then you also need to make sure that your chosen bag has the capacity to add clothes and shoes, plus every other feature we have mentioned above.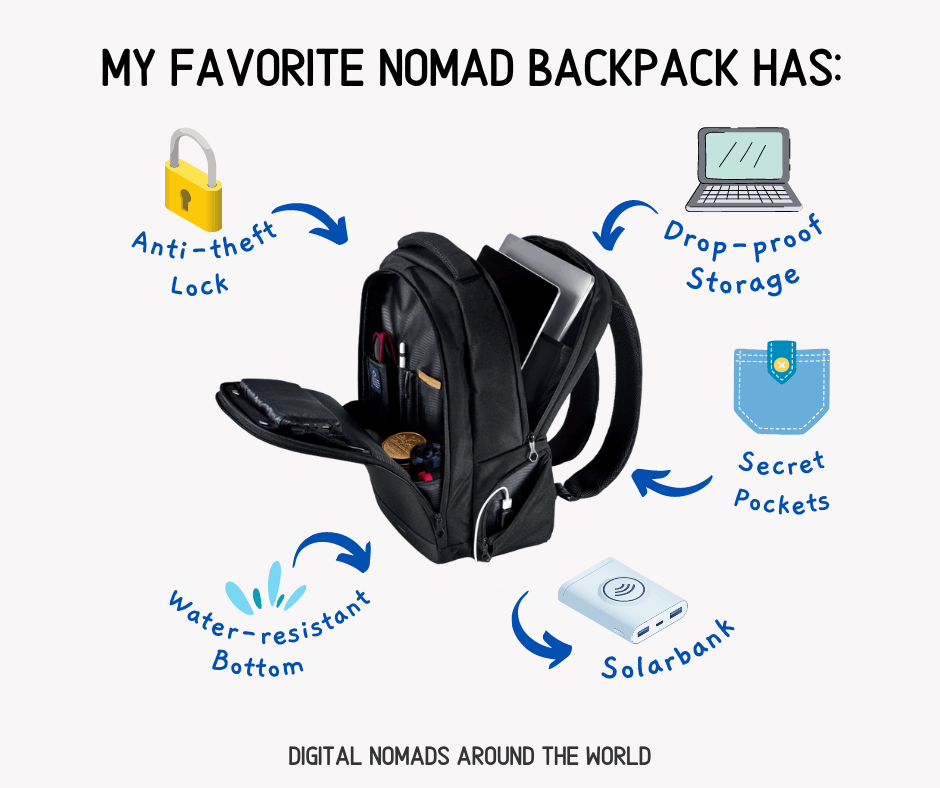 Three Backpack Packing Tips for Digital Nomads
1. Learn how to fold: Though this is obvious, we might forget sometimes how important it is to fold clothes appropriately.
Check out this video compilation of hacks to fold clothes appropriately to save space from The Folding Lady:
2. The heaviest items should be in the back/center: Unless you want to struggle with back problems or get tired quicker, it is highly important that you distribute the weight in such a way that the heavier items are in the center of the backpack and the closest to your back. 
3. Always have a bit of extra space: Allow your backpack to have a bit of space, do not force everything. This might not only cause it to tear, but it will also restrict you from adding anything you might need on the way. 
Is Backpacking for me or should I also take a carry-on with me?
Whether taking only a backpack or also a carry-on depends on two things: your destination and the kind of experience you want to have.
For instance, if you are going to little European or South American towns where you might be required to walk over cobblestones, a backpack is the best choice so as not to struggle with rolling over them. Now, consider that you will not take your carry-on outside every day. 
Backpacking will give you flexibility and help you save money. Some airlines only allow you to take a single item with you into the aircraft, otherwise, you are required to pay extra fees or check in your bags. 
So, now that you have taken the decision, let's consider the brands most mentioned and recommended by the biggest Digital Nomad community on Facebook.
What are the best backpack options for digital nomads and remote workers?
Considering all the features we mentioned above, check out these options when you buy your next backpack:
Solgaard's Lifepack Backpack or Endeavour 
What do digital nomads say about Solgaard's Lifepack Backpack or Endeavor?
Solid, reliable and lightweight. Perfect for carry on traveling! HIGHLY RECOMMEND!! 
The ease in opening it and all of the pockets and organization will make this my number one bag for work and for travel. Very happy with my purchase and highly recommend this for all ages.
Cost: $245USD Lifepack
          $255 USD Endeavour 
Tortuga Outbreaker Backpack
What do people say about the Tortuga Outbreaker Backpack?
My Tortuga Outbreaker Backpack, is mostly used as a "go bag" or day backpack. I take it with me in case of emergency for a change of clothes, or a quick trip. 
Cost: $299 USD
Samsonite Workationist
What do people say about the Samsonite Workationist?
This backpack has the most functionality in a backpack and it looks great. It is high quality make.
Cost: $155 USD
Related Blogs