📅 May 17, 2023
Solgaard Endeavor Backpack Reviews by Digital Nomads
Authored by Andrea Villegas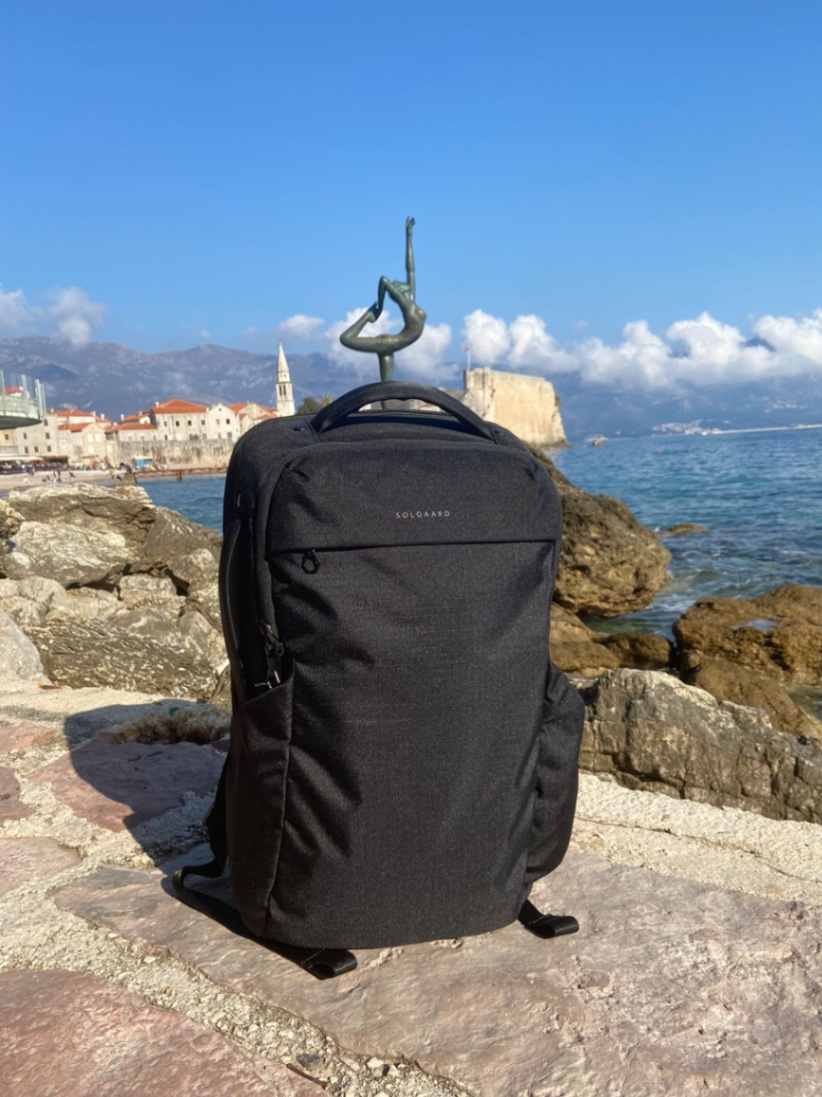 Among the multiple backpack options for recurrent travelers and digital nomads, Solgaard has been established as a trusted brand known for its innovative designs and commitment to sustainability. One of their functional and remarkable offerings is the Endeavor Backpack, specifically designed to offer you specific places for work and travel.
What are the features of the Endeavor Backpack?
The Endeavor Backpack is designed to effortlessly switch between your work belongings and travel mode, making it incredibly versatile. It includes Solgaard's award-winning closet system, and it is built to last, thanks to its durable Shore-Tex™ fabric.
In the Workzone, you will find deluxe drop-proof laptop storage, keeping your laptop secure even on the go. You can also prevent having wrinkled papers, as the backpack has a special storage compartment designed to keep your documents neat and tidy. It also features a protected Glasses Pocket, so you can keep your eyewear protected while on the move. It also has a cable organization feature, so you will never have to deal with tangled cords again, making it easy to access them whenever you need them.
In the Lifezone, the Endeavor offers a compact capacity of 27 liters, which can expand to an impressive 35 liters when you need that extra space. Perfect for your travel needs, it comes with the iconic removable hanging closet to keep your clothes organized and easily unpack. The backpack even includes four secret pockets, providing discreet storage for your passports, credit cards, or other small valuables. With plush shoulder straps offering excellent comfort and back support, you can carry it comfortably even during extended wear. Plus, the water-resistant bottom adds extra protection against unexpected weather conditions.
In this blog, we share with you 5 honest Solgaard reviews by digital nomads from the Facebook community
Digital Nomads Around the World
. These members of the travel community have put it to the test. We hope to give you a well-rounded perspective on the backpack's performance, functionality, and suitability for the digital nomad lifestyle so you decide whether to acquire it as your new travel best friend!
Review 1 by Rodney
[The Solgaard Endeavour] is so well made, with a solar panel to charge up my phone, a protective slot for my laptop, and many useful pockets and sections. One of the things that take it to the next level for me is that it's made of recycled ocean plastic. It's a fantastic, strong, and comfortable pack, with enough space (and spaces) for all my necessary stuff.
Review 2 by Sebastian
[The Endeavor Backpack] is pretty useful to be able to compact it when I'm flying as I use it as my personal item, but then open it up to its full size after I board the plane, stuffing my jacket that holds multiple items in it to fill it up (another thing I use to escape all those darn luggage fees). The rest of the backpack is pretty standard imo, but it does have lots of pockets (including hidden ones).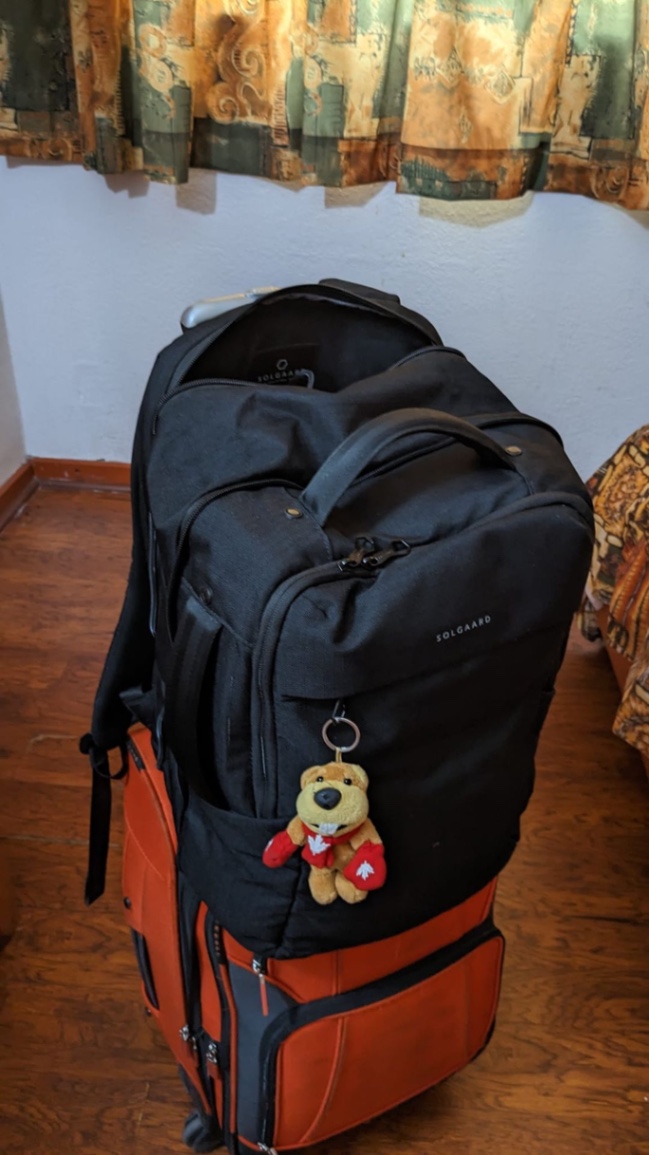 Review 3 by Gitane
Honestly, I just love it. As a short woman (5'2"), with a "not-so-slim body", it is kinda hard to find a comfortable backpack... But this one is a perfect fit. Very practical and beautiful design.
Review 4 by Kate
I went on a trip through Morocco, Germany, Belgium, France, and Italy with the backpack and it is AMAZING!
Not only did it carry a week's worth of clothes and toiletries, but it also fit my entire remote setup (which as we all know takes up more space than it should) and it kept everything totally safe. It also expands to like double the size of all the souvenirs I impulsively bought. Plus it was so nice to have a backpack versus a wheeled bag on all those bus rides, planes, trains, and cobblestone streets.
I'd planned to take pictures of the backpack in each country, but I spaced on it (and hate taking pictures of myself) so I included a pic of my dog in the backpack.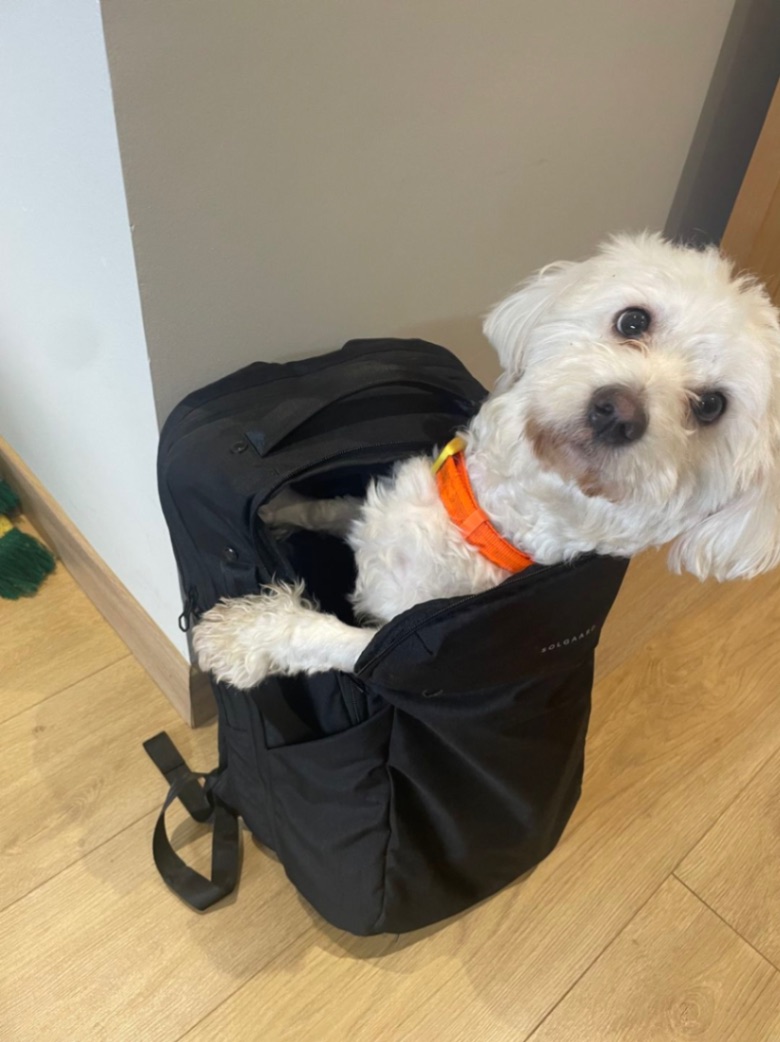 Review 5 by Helen
[The Endeavor Backpack] is the perfect backpack with a built-in removable closet and laptop storage. I love the simplicity of it perfect for everyday use and travel ❤️!!!
Helen also shared an incredible picture: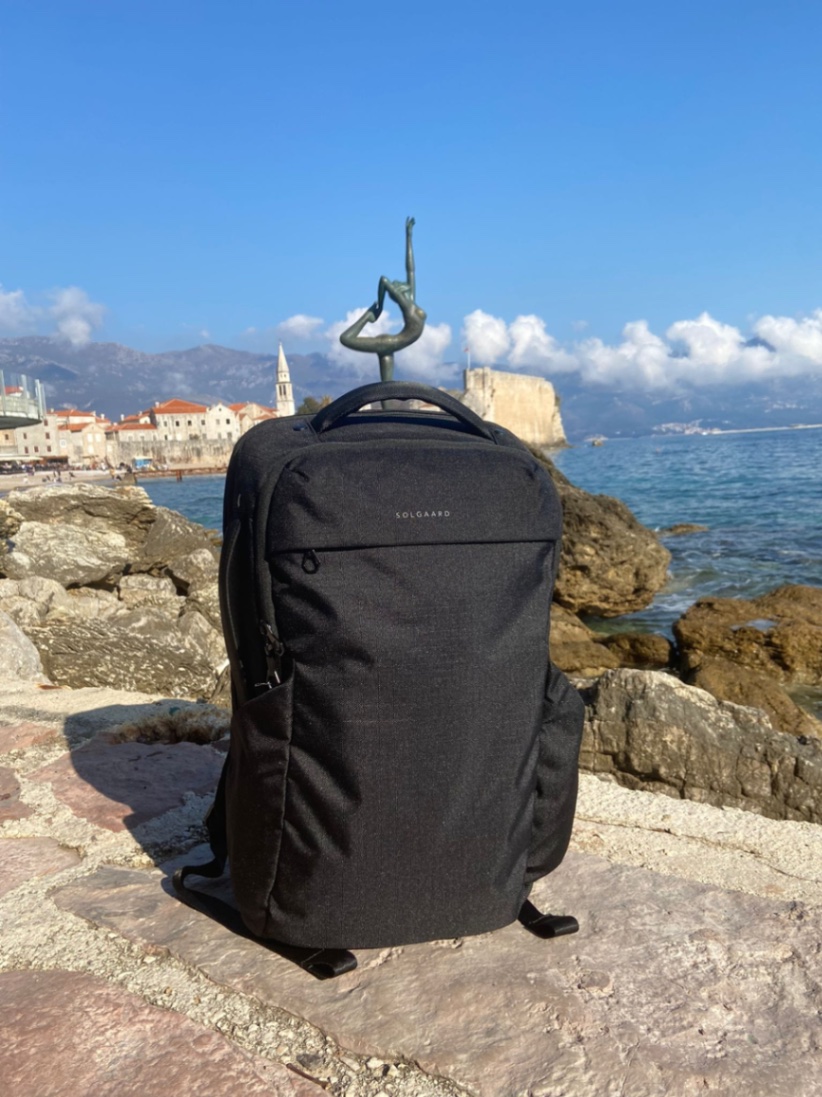 After exploring these 5 honest Solgaard Endeavor backpack reviews shared by digital nomads from the Facebook community "Digital Nomads Around the World," we hope that you can have a better perspective on the backpack's performance, functionality, and suitability for the digital nomad lifestyle.
Here are the key takeaways from the Solgaard Endeavor reviews by digital nomads:
Helen describes the Endeavor Backpack as the perfect backpack for everyday use and travel, highlighting its built-in removable closet and laptop storage.
Rodney appreciates the exceptional design of the Solgaard Endeavor, emphasizing its solar panel for phone charging, protective laptop slot, and the use of recycled ocean plastic in its construction.
Sebastian finds the backpack incredibly useful, especially its ability to compact during flights as a personal item and expand to its full size afterward. The multiple pockets, including hidden ones, add to its practicality.
Gitane loved the backpack's comfortable fit, which is often a challenge for her body type. She finds it both practical and beautifully designed.
Kate shares how the Endeavor Backpack easily accommodated a week's worth of clothes, toiletries, and her remote setup while keeping everything safe. She appreciates its expandable capacity and the convenience of a backpack over a wheeled bag during various modes of transportation.
The Solgaard Endeavor backpack proves to be a reliable and versatile travel companion for digital nomads. The innovative features, including the removable closet, drop-proof laptop storage, and ample pockets, contribute to its functionality and organization capabilities. The use of sustainable materials, such as recycled ocean plastic, is an added bonus for environmentally conscious nomads that love the beach (so, all of us!).
If you are a digital nomad seeking a backpack that seamlessly transitions between work and travel, we highly recommend considering the Solgaard Endeavor. It combines practicality, durability, and style, making it a top choice for those who value functionality and organization on their nomadic journeys.
As a visadb.io user or member from Digital Nomads Around the World, you can get 10% OFF on Solgaard products here:
https://solgaard.co/DNATW
.

Related Blogs