📅 Published at 18 April, 2023 & Last updated at 21 August, 2023
The Best Carry-On Luggage for Digital Nomads and How to Choose the Right One
Authored by Paula Vazquez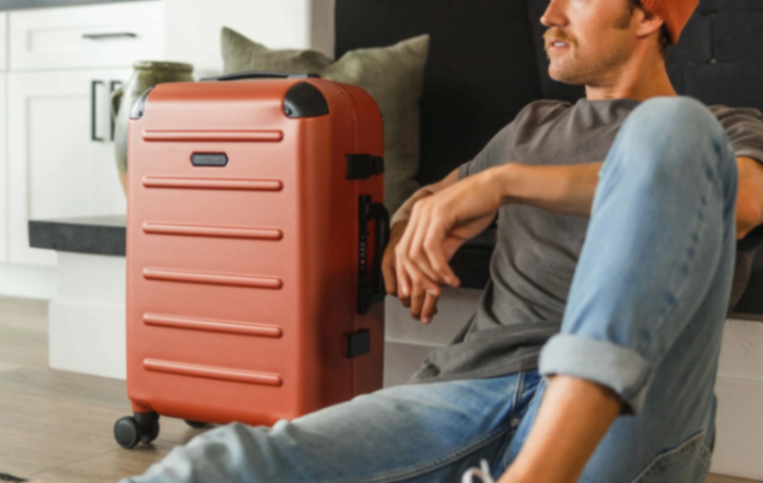 Table of Contents:
Whether you are a veteran digital nomad who wants to get a new luggage best friend or a newcomer researching the best features and options for carry-ons that can help you on your trip, choosing your luggage is an essential decision. 
We have gathered the top 5 features to consider when getting the best carry-on luggage for your digital nomad lifestyle. We have added exclusive insights from the biggest private community on Facebook: Digital Nomads Around the World. 
Choosing the best carry-on for you can make all the difference in your travels. Do notice that we emphasize "for you" as not all of us have the same needs. All the available options make deciding on the most important features overwhelming.
Here are the top 5 key features to keep in mind for the best carry-on luggage for digital nomads and how to choose the right one: 
(1) Airline-friendly size to avoid extra fees
As a digital nomad, you will spend a lot of time in the air. Due to this, you should optimize your time at the airport and the airplane and minimize any extra expenses due to overweight airline fees. 
Many airlines have strict size restrictions for carry-on luggage, especially budget airlines such as RyanAir or WizzAir. Therefore, you should choose a carry-on that meets those requirements.  Look for luggage options designed to fit within the allowed dimensions of major airlines. It will save you time and hassle at the airport and ensure your luggage fits in the overhead compartment. Imagine the drama you might go through if it does not fit. 
For instance, take this comment by a member of the community about preferring to only use a carry-on and saving time and money:
So far, I've traveled only with carry-on luggage. I combined a carry-on suitcase for clothes and valuable things with a backpack in a personal item size.
In this way, I never had to pay extra or wait for the luggage after the flight. The combination is comfortable as I can wear the backpack and roll the suitcase. When I'm standing or don't wanna carry the backpack, I can put it on top of the suitcase. - Joe T. 
(2) Helpful and convenient wheels
Wheels are a constant conversation in the community as they can be a friend or a foe. What do we mean? If you are planning a season of European travels in old towns, consider that the pebble stones will not get on well with your carry-on. In that case, you should take with you a backpack instead.
On the other hand, most nomads prefer wheeled luggage as they do not want or cannot carry heavy bags on their backs. So, having the best kind of wheels in your carry-on can make a big difference in convenience and ease of transport. 
Look for luggage with sturdy, smooth-rolling wheels that can handle different types of terrain. Spinner wheels are a popular option because they allow for 360-degree maneuverability. For instance, this community member explained why she prefers 360º wheels on her carry-on suitcase: 
For a person like me that has 0 strength and is not that tall, I actually prefer 360º as it is easier to pull across all places - Andrea V.
In visadb, we love and use Solgaard options. Their prize-winner Carry-on Closet has a built-in shelving system, a USB charging port, and a TSA-approved lock. They have two different sizes to choose from, so you can easily find the perfect fit for your favorite airlines. It is also made of an indestructible polycarbonate shell and recycled ocean plastics. The best part is you help the environment and the beautiful Earth we love to travel so much. 
You can get 15% OFF as a visadb friend here: https://solgaard.co/DNATW. Travel smarter, more comfortably, and more sustainable! 
3) TSA-approved lock to keep your belongings safe
Security is a top feature when choosing carry-on luggage. No threat or security vulnerabilities must ruin your trip. Also, in case the airline decides to check in your luggage, your belongings are safe from any potential theft. Having a lock on your suitcase can give you peace of mind.  
Remember to search for a carry-on option with a built-in lock compatible with TSA. You do not want extra problems preventing to lose your stuff. 
Moreover, if somebody enters your Airbnb or hotel room, you can be safe that they will not take the belongings inside your luggage. Keith F. shared this tip in the community when a member reported somebody had entered to rob their Airbnb: 
So sorry about what happened. I always lock my valuables inside my luggage. 
(4) Style that fits your personality
While functionality is relevant, style is also a factor when choosing luggage. Remember that as a nomad, you may not have so many belongings to show your incredible style or personality. Choose a bag that fits your style and makes you feel comfortable carrying around. Some travelers might feel super uncomfortable taking a shiny yellow suitcase, while others might feel bored with a plain black carry-on. 
Luggage comes in many colors, materials, and designs, so you should be able to find one that meets your practical and aesthetic needs. A member of the community shared this ultra-original design: 
(5) Lightweight to carry around easily
Finally, weight is an important consideration when choosing luggage. The last thing you want is to be weighed down by a heavy bag that makes it complicated to move around and takes up most of your airline weight allowance. The good news is that plenty of lightweight luggage options on the market can make your travels easier.
Look for lightweight luggage but still sturdy enough to withstand the rigors of travel. Materials like polycarbonate or aluminum can provide a good balance of durability and weight. 
As community member Jason M. noted:
Lightweight for me is the most important.
By prioritizing weight when selecting luggage, you can make sure that you have a comfortable and convenient travel experience.
Choosing luggage for digital nomads and travelers requires a balance between practicality and style. We hope these 5 key features, wheels, airline-friendly size, lock, style, and weight help you choose a bag that meets your needs. 
With the right luggage, you will never have enough discovering the world.

Related Blogs