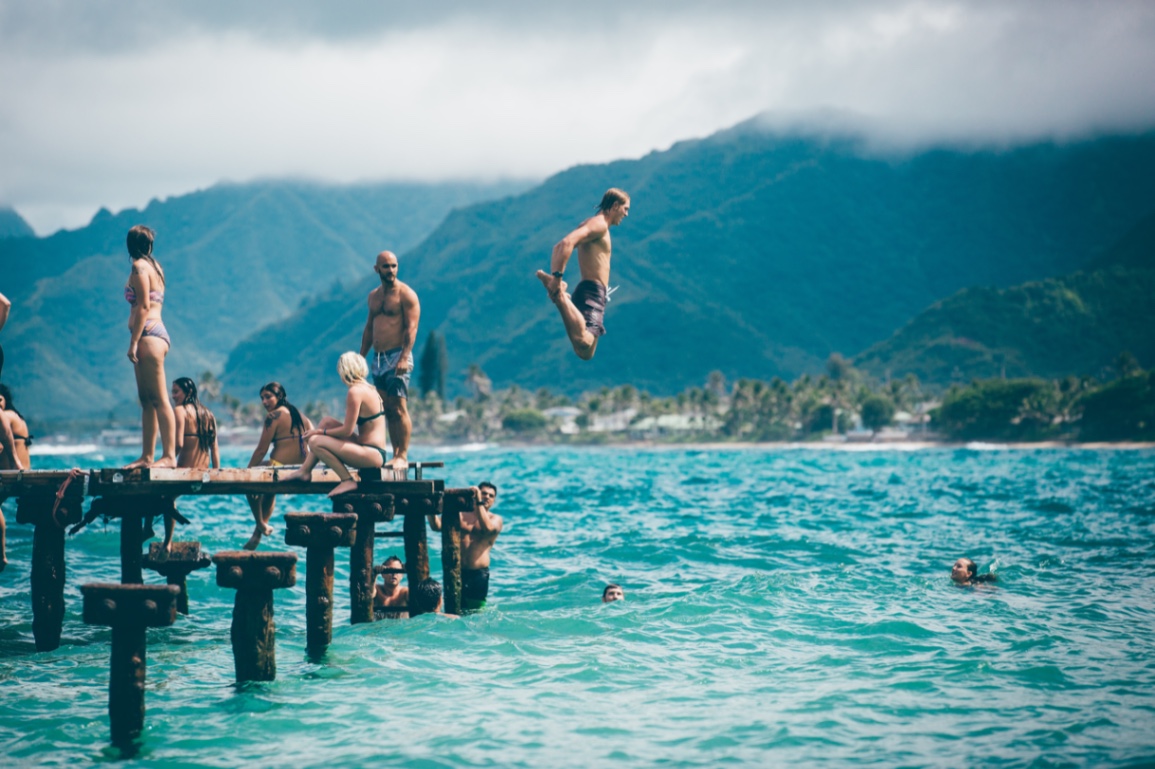 Table of Contents:
When traveling around the world, digital nomads must prioritize securing adequate travel insurance to look after their health and finances. 
Let us start with the basics of travel insurance for digital nomads:
Is there special travel insurance for digital nomads?
Given that numerous digital nomads are self-employed or work as independent contractors, standard insurance policies may not cover them. 
Therefore, it is important to select an insurance provider that offers plans specifically designed for the digital nomad lifestyle.
How does health insurance differ from travel insurance?
While health insurance provides coverage for routine medical check-ups and treatments, travel insurance offers protection against unforeseen incidents that may occur while traveling. 
The amount of coverage required depends on a variety of factors, such as one's risk tolerance, destination, participation in high-risk activities, desire to have children, pre-existing medical conditions, and others.
Please note that the purpose of this article is to assist the digital nomad community in selecting an appropriate insurance plan. The information provided is a summary and is intended for this purpose only. For additional details, please contact the relevant insurance companies directly.
Option #1: SafetyWing
SafetyWing is highly popular in the digital nomad community due to its affordable worldwide coverage and inclusive policy for individuals of all nationalities, which was designed by and for nomads.
Their Nomad Insurance is an excellent option, offering global travel medical coverage for emergencies. They also offer a Remote Health plan specifically tailored for a higher comprehensive experience for full-time nomads.
Read on to discover all the essential details about these highly recommended insurance options or see more on their page here.
Frequently Asked Questions about SafetyWing, Nomad Insurance


How much is SafetyWing Insurance?
Pricing for SafetyWing's Nomad Insurance: $45.08/28 USD for 28days***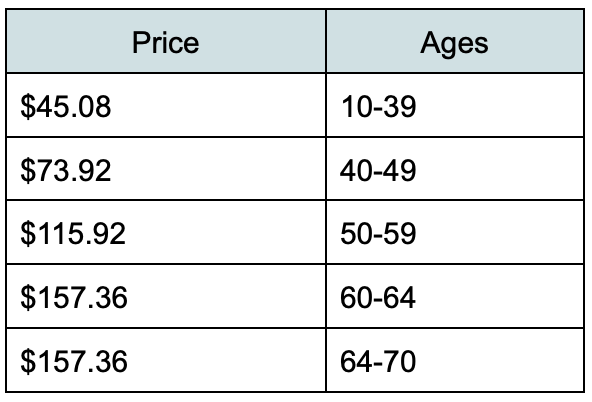 *Starts at $45.08 USD per 4 weeks/28 days for people from 10 to 39 years old.
**US Travel involves extra charges.
What is the medical coverage provided by Nomad Insurance through SafetyWing?
Nomad Insurance offered by SafetyWing is available for purchase in 180 countries and provides coverage for up to 30 days at home following 90 days spent abroad. It also offers access to a network of qualified medical professionals, including doctors, hospitals, and emergency medical evacuation services.
What type of travel coverage is provided by Nomad Insurance from SafetyWing?
The Nomad Insurance Plan from SafetyWing offers support in case of accidents or illness during your travels abroad.
What kind of support coverage is offered by Nomad Insurance?
Nomad Insurance provides a 24/7 support service.
Which countries are covered by SafetyWing's Nomad Insurance?
SafetyWing provides coverage for travel in any country outside of your home country, except for those that are under sanction. The company adheres to sanctions imposed by the US, UK, EU, and UN.
Does SafetyWing cover me if I have an accident on a scooter?
If you happen to have an accident while riding a motorbike, moped, or scooter, don't worry - SafetyWing got you covered for your eligible medical expenses, as long as you have a valid license for the area you are driving in and you are wearing proper safety gear, for example, a helmet. 
Just make sure you are not driving under the influence or racing, as these are not covered. Please note that personal liability for operating any vehicle is not covered. 
It is always a good idea to check with the local authorities to make sure your driver's license is accepted in the area, state, or country you are visiting. 
Are young children covered by SafetyWing's Nomad Insurance?
Yes, the insurance covers up to two children between 14 days and 10 years of age per family at no additional cost, making it an ideal insurance choice for nomad families.
Pros of SafetyWing Nomad Insurance
✔️ Buy anytime during your trip 
✔️ Include two children under 10 at no cost
✔️ COVID-19-related medical expenses, including testing, treatment, and quarantine costs
✔️ Purchase online in just a few minutes, without the need for any medical exams or paperwork
Extra Pro Tip: Join through our community Digital Nomads Around the World link for quicker support. 
Cons of SafetyWing Nomad Insurance
❌ It does not cover pre-existing conditions, routine checkups, or dental care.
Option #2: InsuredNomads
InsuredNomads offers technology-focused solutions that are perfect for digital nomads. If you're a tech-savvy nomad, you will appreciate their insurance options where you can add mental health and electronic equipment coverage. 
Take a look at the key features of each plan below, designed specifically for global citizens.
Frequently Asked Questions about InsuredNomads
How much is InsuredNomads?
InsuredNomads has several plan options. World Explorer Multi is a travel medical insurance plan that nomads can use to be covered both for travel mishappens and medically. InsuredNomads' World Explorer Multi needs a quotation according to your needs. Get yours here.
What does World Explorer Multi offered by InsuredNomads include in terms of medical coverage?
This particular plan provides coverage for all essential aspects of short-term trips abroad. 
What type of travel coverage is provided by InsuredNomads' World Explorer Multi?
World Explorer Multi plan offered by InsuredNomads is designed to cover the following for your trip.
Does InsuredNomads offer coverage for adventure sports and activities?
Yes, InsuredNomads offers coverage for a wide range of adventure sports and activities, including bungee jumping, scuba diving, and skiing.
Does InsuredNomads cover COVID-19-related medical expenses?
Yes, InsuredNomads offers coverage for COVID-19-related medical expenses, including testing, treatment, and quarantine.
Pros of InsuredNomads World Explorer Multi
✔️ User-Friendly Application Process: The application process for InsuredNomads is straightforward and can be completed online.
✔️ InsuredNomads offers flexible coverage options, allowing travelers to customize their policy to fit their specific needs.
✔️ InsuredNomads provides coverage for travelers worldwide, including trips to high-risk countries with the plan World Explorer Hotspot.
Cons of InsuredNomads World Explorer Multi
❌ While InsuredNomads does not typically cover pre-existing conditions, there may be exceptions to this policy that you can clarify through consultation.
❌ Telemedicine is only available in the US.
Option #3: WorldNomads 
World Nomads aims to enhance your travel experience by providing smarter and safer travel insurance. Their policies are tailored to cover your essential trip needs, and any unforeseen emergencies that may arise. It is important to note that coverage may vary depending on the country of residency of the insured.
See below to discover more about WorldNomads. 
Frequently Asked Questions about WorldNomads
What does the medical coverage offered by WorldNomads?
What does the travel coverage offered by WorldNomads?
Does World Nomads cover COVID-19?
Yes, World Nomads does provide coverage for COVID-19-related medical expenses as long as you become sick during your trip. It is important to note that policies purchased after the pandemic was declared may have exclusions related to COVID-19. Additionally, trip cancellation coverage due to COVID-19-related travel restrictions may not be included in all policies.
Can I purchase World Nomads insurance after I have already left for my trip?
Yes, you can purchase World Nomads insurance even if you have already left for your trip. Depending on your country of residence and your travel destination, some coverage may be limited or not available. 
Pros of WorldNomads Travel Insurance
✔️ Tech Coverage: WorldNomads offers a range of travel insurance plans that cover teach gear.
✔️ Flexibility: WorldNomads policies are flexible and can be customized to suit your specific travel needs. They allow you to choose the level of coverage that best suits you, and you can also extend your coverage if you decide to extend your trip.
✔️ Accessibility: WorldNomads policies are available to travelers from over 140 countries, and you can purchase coverage even if you are already traveling. They also have a 24/7 customer service team available to answer any questions or concerns.
Pros of WorldNomads Travel Insurance
❌  WorldNomads insurance policies can be more expensive than some other travel insurance providers, especially if you require a high level of coverage.
❌  Limited Coverage for Extreme Sports: WorldNomads policies may not provide coverage for certain extreme sports, such as bungee jumping or skydiving unless you purchase an additional rider.
As a digital nomad, you have the freedom to work from anywhere in the world, but you also need to be prepared for any unforeseen circumstances that may arise during your travels.
Nomad Insurance Options Comparison Chart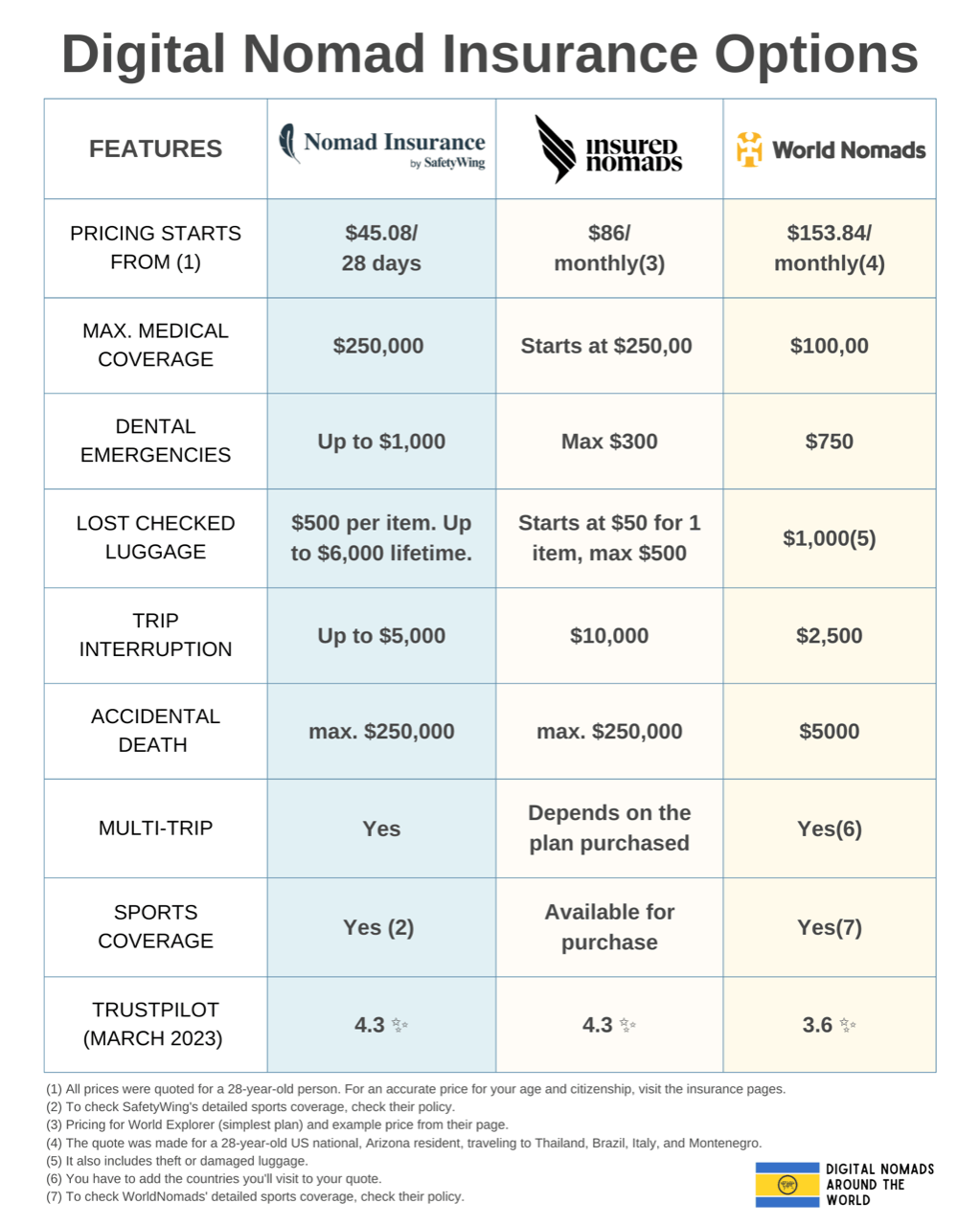 Each of these digital nomad insurance options has its unique advantages and disadvantages, but all three can provide peace of mind for digital nomads who want to focus on their work and travel adventures without worrying about the unexpected. Whether you choose SafetyWing, World Nomads, or InsuredNomads, you can rest assured that you have the coverage you need to enjoy your digital nomad lifestyle to the fullest.
If you would like to see other options besides these three, get a free quote for Cigna, GeoBlue, IMG, or SevenCorners here.
Related Blogs