📅 July 19, 2023
Cambodia for Digital Nomads [Guide 2023]
Authored by Paula Vazquez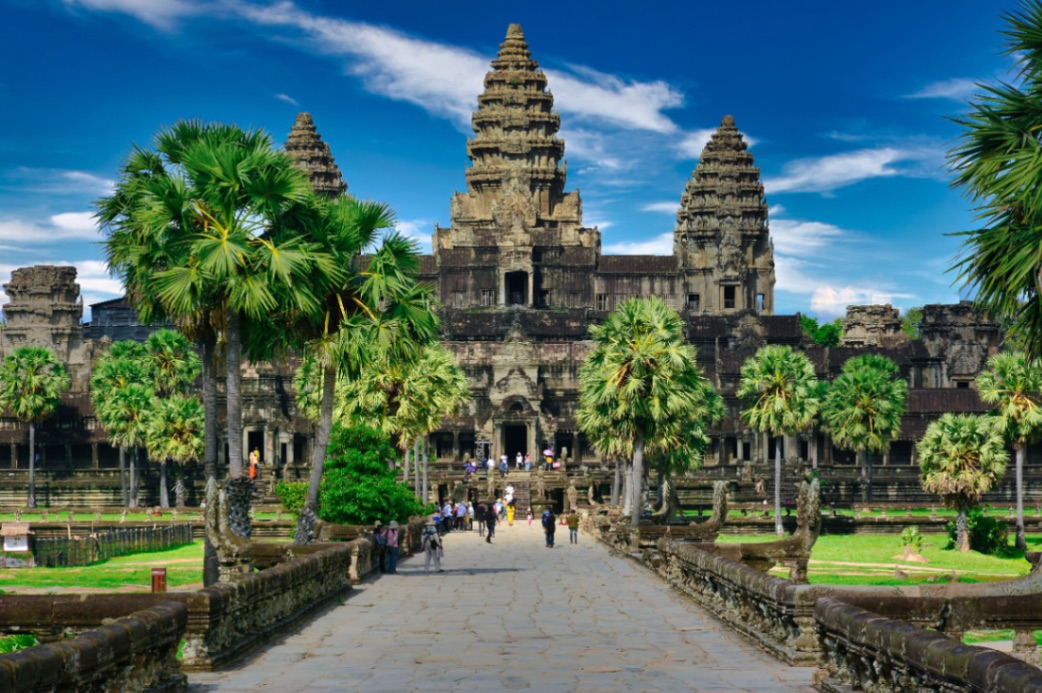 Cambodia is a Southeast Asian country known for its ancient temples, lush rainforests, and friendly people. It is also a great place for digital nomads, thanks to its low cost of living, beautiful scenery, and thriving expat community.
In this article, we will take a look at Cambodia for Digital Nomads [Guide 2023]. We cover living and working as a digital nomad in Cambodia with topics like visas, cost of living, finding accommodation, getting around, and staying connected.
What do digital nomads need to know about Cambodia?
What is the cost of living in Cambodia?
The cost of living in Cambodia goes from 400 to 700 USD per month, excluding rent*.
What is the cost of rent in Cambodia?
The cost of rent in Cambodia goes from 200 to 600 USD per month, depending on location and type of accommodation*.
*The cost of living and rent is an approximation, please share your recent data if you have been there in the past months.
What is the official currency in Cambodia?
The official currency in Cambodia is the Cambodian Riel (KHR) ៛.
What are the best cities to visit in Cambodia as a digital nomad?
You should check out Phnom Penh, Siem Reap, Battambang, Sihanoukville, and Kampot if you find yourself in Cambodia.
What are some hidden jewels to visit in Cambodia as a digital nomad?
Kampong Phluk Floating Village, Tonle Sap Lake, Bokor National Park, Koh Ker Temple Complex, Preah Vihear Temple.
What are the best months to work remotely from Cambodia as a digital nomad?
The best months are November to February.
What are the popular holidays in Cambodia?
Water Festival (November), Chinese New Year (January or February), Khmer New Year (April), Pchum Ben (September/October), Royal Ploughing Ceremony (May)
What are the opening hours of stores in Cambodia?
Stores are usually open from 8 AM to 5 PM, Monday to Friday. Some stores may be open on weekends.
Is tipping common in Cambodia?
Tipping is not common but rounding up the bill or leaving a small amount for good service is appreciated.
Checklist for Digital Nomads Visiting Cambodia 🇰🇭
✈️ Book your flight on your favorite platform, for example, Google Flights.
🛂 Check if you need a tourist visa. Many countries can apply for an e-Visa here.
🏥 Stay safe with Travel Health Insurance. You can check out this digital nomad community recommended that starts at $12 USD weekly and covers you for emergencies. You can buy SafetyWing even if your trip has already begun. Get subscribed and learn more here.
🧳 Are your suitcases ready? We have a surprise for you. You can get 10% OFF on any Solgaard luggage product such as the Endeavor backpack or the check-in closet carry-on. Their award-winning products are made of recycled ocean plastic so you support keeping our planet clean. Learn more here.
😷 COVID-19 Requirements. Restrictions were lifted in October 2022.
We hope this article has been a great reference point for your digital nomad visit to Cambodia. Check out 800+ visas and +300 verified immigration, tax, real estate, and company formation services at
https://visadb.io
.
This is just a courtesy guide. The information hereby presented might change unexpectedly: please always verify the information for your trips abroad.
Related Blogs