📅 July 19, 2023
Malaysia for Digital Nomads [Guide 2023]
Authored by Andrea Villegas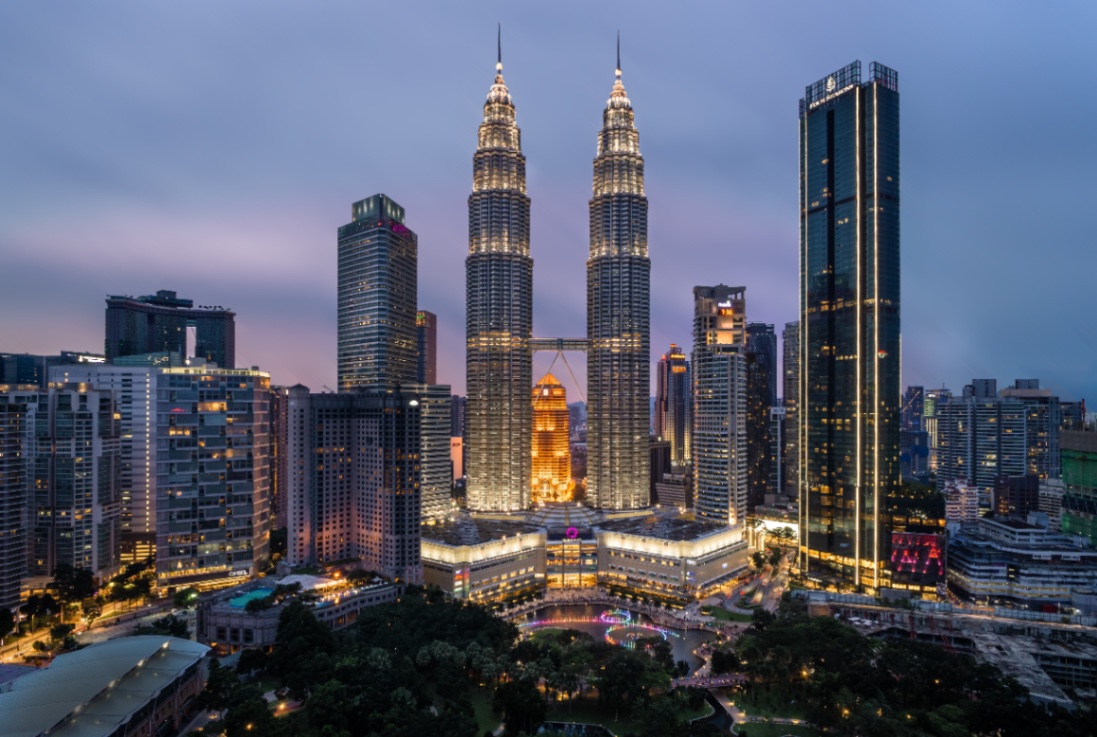 Located in Southeast Asia, this enchanting country offers a vibrant fusion of modernity and tradition. Explore the gleaming skyscrapers of Kuala Lumpur, unwind on the idyllic beaches of Langkawi, and trek through the lush rainforests of Borneo. Indulge in mouthwatering street food, discover ancient temples, and immerse yourself in the warmth of Malaysian hospitality.
In this article, we will take a look at Malaysia for Digital Nomads [Guide 2023]. We cover living and working as a digital nomad in Malaysia with topics like visas, cost of living, getting around, and not missing out on the best places.
What do digital nomads need to know about Malaysia?
What is the cost of living in Malaysia?
The monthly cost of living in Malaysia starts at 429.78 USD per single person (rent excluded)*.
What is the cost of rent in Malaysia?
The monthly cost of rent in Malaysia starts at 342.57 USD (1 bedroom apartment in the city center)*.
*The cost of living and rent is an approximation, please share your recent data if you have been there in the past months.
What is the official currency in Malaysia?
The official currency of Malaysia is the Malaysian ringgit (RM).
What are the best cities to visit in Malaysia as a digital nomad?
The best cities to visit in Malaysia if you are a digital nomad are Kuala Lumpur, Penang, Kuching, Kota Kinabalu, Johor Bahru, and more. Which one do you recommend?
Which cafés and coworking spaces are recommended in Malaysia for digital nomads?
You can check the map with recommendations with reviews of more than 4.5 stars here: https://bit.ly/3XnfCiU.
What are the best months to work remotely from Malaysia?
The best months to work remotely from Malaysia are December to April, as the Monsoon season is from May to September.
What are the popular holidays or festivals celebrated in Malaysia?
Some examples are Thaipusam, Lunar New Year, Kaamatan Harvest Festival, and Gawai Harvest Festival. The most popular one is the Islamic New Year or Hari Raya Aidil Fitri.
What are the typical opening hours of stores and businesses in Malaysia?
Typical operation hours are from 8:00 am to 5:30 pm. You can find stores open 24/7 for groceries. In the states of Kedah, Kelantan, and Terengganu, working days are Sunday to Thursday. Fridays and Saturdays count as weekends.
Is tipping common in Malaysia?
Tipping in Malaysia is discretionary; otherwise, it is around 10%.
Checklist for Digital Nomads Visiting Malaysia 🇲🇾
✈️ Book flights at your favorite platform, for example, Trivago.
🛂 Check if you need a Tourist Visa. Most can enter without a visa for 30-90 on the Social Visit Pass. Check the official government page for further information and extension steps.
🌎 Do you want to stay longer in Malaysia? Read more about Temporary or Permanent Residency Visas (Long-Term Visas). As a digital nomad, you can apply for a Digital Nomad Visa or De Rantau Pass. See other long-term visa options here.
👩🏻‍💻 Do you need immigration assistance for Malaysia? If you want to apply for the DE Rantau pass or Malaysia Second Home Permits, Tej can help you. Start a chat with him here.
🏥 Stay safe with Travel Health Insurance. You can check out this digital nomad community recommended that starts at $12 USD weekly and covers you for emergencies. You can buy SafetyWing even if your trip has already begun. Get subscribed and learn more here.
🧳 Are your suitcases ready? We have a surprise for you. You can get 10% OFF on any Solgaard luggage product such as the Endeavor backpack or the check-in closet carry-on. Their award-winning products are made of recycled ocean plastic so you support keeping our planet clean. Learn more here.
😷 COVID-19 Restrictions. Restrictions were lifted in August 2022.
We hope this article has been a great reference point for your digital nomad visit to Malaysia. Check out 800+ visas and +300 verified immigration, tax, real estate, and company formation services at
https://visadb.io
.
This is just a courtesy guide. The information hereby presented might change unexpectedly: please always verify the information for your trips abroad.
Related Blogs